A new name for the UK's first custom-built hydrogen waste collection vehicle has been revealed, with the 'Hydro Hero' now ready for its debut collections in the New Year.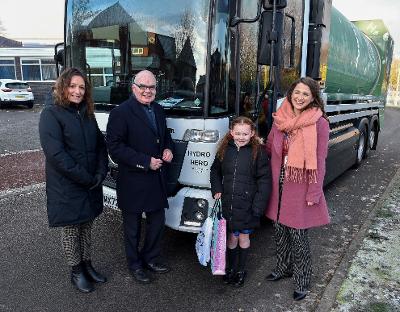 The Hydro Hero received its name following a competition running in seven schools around the borough, with 166 entries received from local children.
The winning entry came from Maisie, aged 9, from Queen's Park Primary School, who received a tablet, £20 Amazon gift card and a goody bag from vehicle manufacturer FAUN Zoeller.
Second and third place prizes went to Tia, aged 9, from Robins Lane Primary and Finnley, aged 10, from Holy Spirit Catholic Primary, who proposed 'Dustbin Bieber' and 'The Climate Changer'.
The FAUN Zoeller Bluepower is a hydrogen-electric hybrid vehicle that uses an electric motor for drive and a hydrogen fuel cell to charge the battery while the vehicle is operating, meaning zero carbon emissions while in operation.
The vehicle is also dramatically quieter than traditional diesel vehicles and has been successfully piloted in Germany over the past two years. The council is hoping to invest in additional Bluepower vehicles in the future.
FAUN Zoeller UK have developed the vehicle with Daimler AG based in Stuttgart, St Helens Borough's historic twin town in Germany.
The partnership with FAUN Zoeller – alongside the council's investment in electric as part of its wider fleet modernisation – will unlock development opportunities in green skills for staff with dedicated on-site support and training provided.
The vehicle could also be the subject of further educational programmes in the community and with local schools and colleges, giving young people the chance to learn about hydrogen technology and the role it will likely play in powering the economy for years to come.
Councillor Andy Bowden, St Helens Borough Council's Cabinet Member for Environment and Transport, said:
"We're very excited to see our Hydro Hero run its first zero-emissions collections in the borough very soon, and very grateful to Maisie for thinking of the perfect name for it. We had some fantastic suggestions from local children, including those from our runners up, and we'll be looking at ways we can incorporate them into our wider fleet modernisation.
"As for the Hydro Hero, this is just the start of the journey. We'll be seeing the benefits for years to come, with reduced emissions, green training and development opportunities for our staff and local colleges, and a case for greater investment in electric and hydrogen transport infrastructure in St Helens Borough and across the Liverpool City Region."