Thanks to a successful funding bid, families in need of support in St Helens Borough will benefit from a package of funding that will aim to give children the best start in life.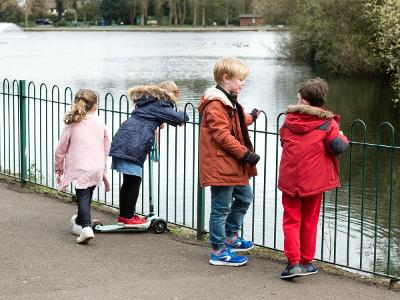 St Helens Borough Council is one of just 75 councils that are eligible for part of a £302million fund which is designed to support them create Family Hubs.
A Family Hub is a centre that offers a 'one stop shop' of services for parents and families with children up to 19 years old. They bring together a wide range of services that can help provide support and advice on everything a family might need from those early days with midwifery and health visiting services, child development services, through to cookery lessons, financial advice, targeted youth groups, adult support groups and activities all working together under one roof.
The services based at the Family Hub all work together to make sure that families only have to explain their situation once and get the right support from the right services, and they are open to everyone to use as they need regardless of their background.
The announcement of the funding from Central Government comes as St Helens Borough Council looks to create its first Family Hub at Sutton Children's Centre as part of its plans to bolster early years support in the areas where the help will have the biggest positive impact on those children and families who need it.
The three-year funding will also see some money set aside for bespoke parent-infant relationship and perinatal mental health support with a focus on supporting families through the first five years of live for children.
Cllr Nova Charlton, Cabinet Member for Children and Young People, says: "Following over a decade of cuts to services from the Tory government St Helens Borough Council have recently been successful in receiving funding, having submitted a bid to the Family Hub Local Transformation fund. 
Our number one priority as a council is to ensure children and young people get the best start in life and we want to make sure every child in our borough gets the chance to achieve their full potential which is why we are looking at creating Family Hubs to support those who need it most."
Council Leader David Baines says: "I'm delighted we've been successful with our bid for funding and my thanks go to Cllr Nova Charlton – Cabinet Member for Children and Young People – and council officers who worked so hard on putting it together.
But it surely can't be right that local councils and communities are being made to compete against each other for funding of services that should be universal. Thankfully for us, here in St Helens and due to a lot of hard work we're getting good at winning funding bids, but it shouldn't be this way.
All these things are important everywhere – making councils spend time and energy on bidding for funding rather than delivering essential services is in nobody's interest.
We've got high aspirations for our children and young people, that's why in our manifesto for the elections we've committed to taking action including working towards making St Helens a UNICEF Child Friendly Borough. We've a lot of work to do to make that happen, but our children will always come first. I'm looking forward to our first Hub opening its doors."